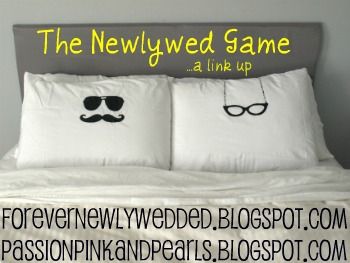 So this is my first week participating in this link up and I thought it would be fun! I don't know if people would consider Michael and I Newly Weds since we have been married over 4 years, but we still consider ourselves Newly Weds, so that's all that matters. Just an FYI, I e-mailed Michael these questions while he was at work, so his answers are completely his own, no influence from me.
1. What is the funniest thing your spouse has done?
Tessa: Oh my this is a hard one because Michael and I are such goof balls. We rarely take life seriously and are always laughing and joking about something, its usually something stupid, inappropriate and immature, that's just how we roll. Michael makes me laugh daily.
Michael: Many thnigs, but the funniest I can remember right now is when she came out of the anesthesia from her wisdom teeth and said the most awesome things.
2. What is your idea of a good date?
Tessa: Going out to dinner and walking around the mall, like I have mentioned before we are mall people. I'm not a huge fan of movies, for a date night I want to be able to talk and you can't do that during a movie.
Michael: Go out for some good food and drinks then go to a sports game (soccer, football, basketball or hockey) or explore the city. I have many other ideas of good dates, but that is the first that came to mind.
3. What is your favorite memory of you and your spouse?
Tessa: Man this a hard one as well, we have had tons of memories over the past eleven and a half years. I would have to say the big ones like getting engaged, our wedding day and adopting our little fur baby Bella.
Michael: A lot, Tess walking down the aisle is probably top right now.
4. What are some activities/hobbies that you and your spouse do together?
Tessa: Well we love to eat, that's for sure. We love going on long walks, going to the mall like I mentioned earlier. And I would have to say going and watching the hubs play soccer, Michael is a soccer nut! He has played it pretty much his entire life and ever since I started dating him I have always gone to his games, I really enjoy it!
Michael: Walking, DIY projects (ha), eating, going places, watching sports, going to church, sleeping, etc.
5. Why do think your marriage/relationship is successful?
Tessa: I am in no ways a relationship expert and we have had our struggles over the past 11 years but first and foremost I would have to say our faith. Keeping God at the center of our marriage has been our goal and it is not easy but it teaches us to be selfless and put our spouse first. Jesus really has changed our relationship. Along with that the usual: communication, fighting fair etc. We also make an effort to go on a date night every week, were we put down our phones and just spend time together. And last but not least we just have fun, like I said before we have quite the sense of humor and we just love being silly and ridiculous together, life is way to short to be serious.
Michael: Because we are awesome and we have God in our relationship (though it is more the latter).
6. What is your spouse's dream job? Is he/she currently in it?
Tessa: Hmmmmm probably to be a professional soccer player haha. But other than that, maybe start a business. Michael has been talking about how he wants to be able to start an online business that he can provide for our family but be his own boss, his ultimate goal is to have the freedom and flexibility to spend as much time as possible with me and our future children. He has always said he doesn't ever want his career to be his priority he always wants his family to come first, especially when we have children because they are only with you for such a short period of time and he doesn't want to miss anything.
Michael:
Stay at home mom (not yet)
7. What is the best gift your spouse ever gave you?
Tessa: Oh wow, Michael is the BEST gift giver, he gives me things I didn't know I wanted, and he is so good at paying attention to things that I have mentioned wanting. I just can't pick one thing!
Michael: My xbox was pretty awesome.
8. Where do you see you and your spouse in the next 10 years?
Tessa: Hopefully, busy raising little Roman's and living back in NC! And of course still laughing at life, like always.
Michael: Married with two kids and our dog Bella (still kicking) and living at a lake house near Charlotte.
9. Is marriage everything you expected it to be? Is it much harder than you thought it would be? Why?
Tessa: I don't really know what expectations I had for marriage, I was just looking forward to finally getting to marry my best friend and share everyday life with him! I have to honestly say it has not been harder than I expected, even with the fact that we didn't live together before marriage we pretty much transitioned easily. Not to sound sappy, but I honestly could spend every waking moment with Michael, even when we argue I never feel like I need to get away from him, I don't know why? Maybe because we dated long distance pretty much our entire dating relationship and we were always having to say goodbye. Don't get me wrong we have had our struggles over the past 4 years, but nothing any harder than what we faced in our dating relationship when neither of us knew Jesus and God was definitely was not the center of our relationship. Like I said Jesus has made such a huge difference in our relationship and our lives.
Michael:
I didn't have a lot of expectations for marriage coming in. It is pretty much like I expected, though some situations are different than I would have expected or known how to deal with. I based my idea of marriage around my parent's marriage but since my wife and I are not my parents, learning to handle things differently than my parents did/do is the most difficult.
10. Who is your spouse's celebrity crush and do you look like them?
Tessa: Hahaha, this is funny because Michael just does not ever talk about stuff like this, I'm not sure why but he just never has. However he did admit to me one time that he use to have a crush on Christina Aguilera way back in the day, he thought she was pretty hot in the "Genie in a bottle" video. Well I'm not sure if I look like her, I'm blonde. Oh yeah and I use to be a huge fan of her back in H.S, I even dressed up as her for Halloween one year haha, so I guess he lucked out!
Michael:
Me. Ok well I'm not a celebrity so it would be Justin Timberlake and yes I look like him.
Thanks for stopping by, have a great weekend!